MULTILINGUAL MULTISCRIPT PLANT NAME DATABASE

PLANTS OF THE WORLD

WELCOME TO OUR GALLERY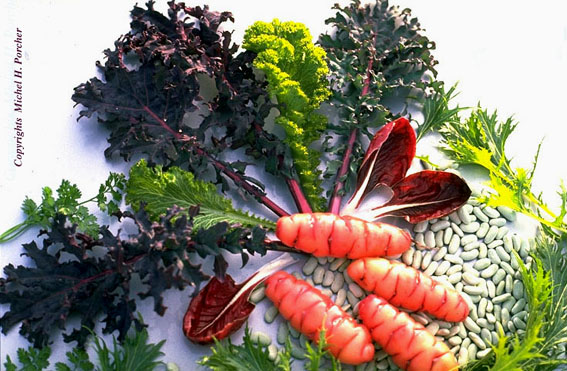 In the various rooms of this virtual gallery can be found some of the best photographs of edible plants found anywhere in the world. If the quality is not perfect, it is not due to the photographers' skills but to my abilities to compromise between optimal electronic quality and copyright protection, a major worry of all professional photographs. I have deliberately attempted to lower the quality, so that "sharks" won't be tempted to steal copies for illegal publication, whilst trying to keep the definition of the images sharp enough to please the eye on the average screen. Now that you are warned, please enjoy.
Please be patient. The dowloading time may be long for common home computers but we trust you'll enjoy what you see.
Currently we have 6 small galleries open, some divided into separate rooms, each devoted to a specific topic.
Beans
Chicories
Corn / Maize
Perilla / Shiso
Potatoes / Sweetpotatoes
The David Cavagnaro Gallery
Dedicated to world bio-diversity. Open and bound to expand.
David Cavagnaro is a very compassionate man, well known world wide as a professional photographer / gardener extraordinaire, whose contribution to the preservation of traditional crops of the world has been truely outstanding. How many gardeners known to you can grow, maintain true-to-type, photograph expertly and document thousands of cultivars of domesticated plants for several years. We know only one : David. He achieved this in association with the Seed Savers Exchange from the USA, an extremely dedicated group led by Kent Whealy. This gallery is dedicated to David Cavagnaro as an expression of our appreciation.
The Diggers Gallery
Opening soon
The Australian Digger's Seed and the Digger's Club have been run successfully by Penny & Clive Blazey for a number of years and although their deep interest is into ornamental plants, they have also recognized the problems associated with genetic erosion of domesticated crops and they have done something about it. This gallery is to express our thanks for their relentless and increased efforts towards introducing Australia to an ever expending range of the most valuable plants and cultivars of the world.
The Michel de Gisborne Gallery
Open and improving
Michel has only comparatively smaller claims to fame but he indeed was instrumental in introducing the Flageolet bean to Australia, has contributed to the introduction of many beautiful and useful gourmet vegetables by delivering countless presentations for a period of twelve years, testing and producing a small range of exotic vegetables for the Australian "gourmet industry". All the photos in this gallery are of his own biologically grown produce (including those on the top of this page), mostly photographed by him.
Thumbnails are linked to close up shots, names are linked to nomenclature

back to Notes , to Gateway , to the Landcare Group Homepage

Date created: 15 / 06 / 2000
Authorised by Prof. Snow Barlow
Last modified: 24 / 06 / 2000
Access: No restriction
Copyright © 1995 - 2000, The University of Melbourne.
Maintained by: Michel H. Porcher
E-Mail: m.porcher@landfood.unimelb.edu.au
Disclaimer